Breakfasts
The Best Breakfast in Liverpool
Welcome to Shenanigans Irish Pub, where the warmth of Irish hospitality meets the delectable flavours of traditional Irish cuisine. Prepare yourself for a delightful culinary adventure as we take you on a journey through the best of Irish breakfast and coffee delights.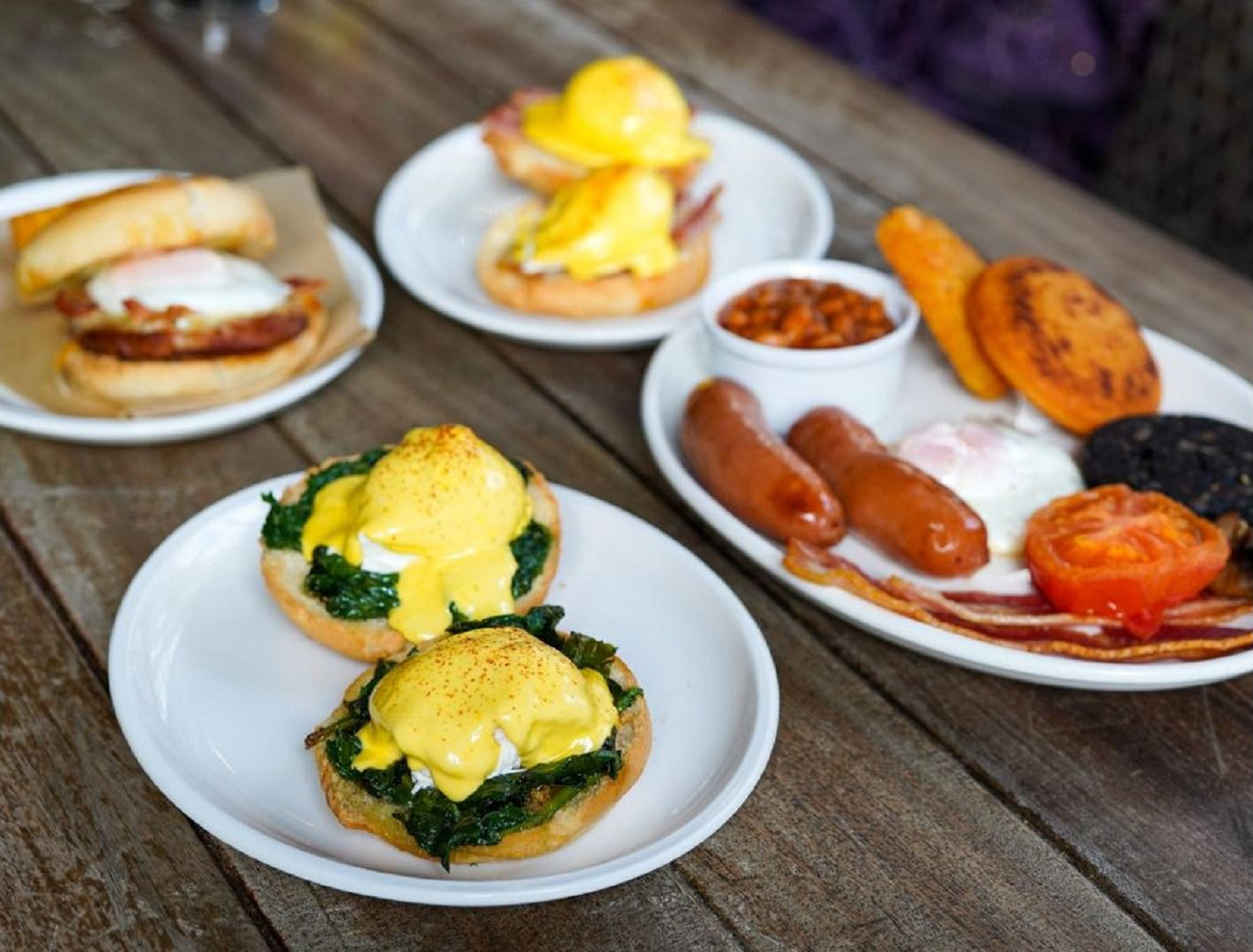 ---
Top O' the Mornin' to Ya! Indulge in Our Authentic Irish Breakfast
At Shenanigans, breakfast is more than just a meal - it's an experience that embodies the spirit of Ireland. Start your day off on the right foot with our signature full Irish breakfast, featuring sizzling rashers, succulent sausages, perfectly cooked eggs, black and white pudding, and more. Our breakfast menu is a celebration of Ireland's culinary heritage, lovingly prepared to satisfy your appetite and transport you to the Emerald Isle.
---
Cead Mile Failte: Discover the Finest Irish Coffee at Shenanigans
When it comes to the perfect brew, we take our coffee seriously. At Shenanigans, our baristas craft the finest coffee that will warm your soul and delight your senses. Sip on the rich and velvety blend (which can be infused with a splash of smooth Irish whiskey Whether you're seeking a pick-me-up in the morning or a delightful after-dinner treat, our coffee is the perfect companion for every occasion.
---
A Taste of Ireland in the Heart of Liverpool
In the heart of Liverpool, lies a hidden gem that brings the spirit of Ireland to your doorstep. Shenanigans Irish Pub is your home away from home, where the Irish charm meets delectable cuisine. Step into a cozy and inviting atmosphere that welcomes you with open arms, ready to indulge your senses with the finest Irish breakfast, coffee, and more. Join us at Shenanigans, where every meal is an experience of genuine Irish flavours and heartfelt hospitality.
---
Your Go-To Destination for an Authentic Irish Breakfast in Liverpool
Searching for the best spot to savour an authentic Irish breakfast in Liverpool? Look no further than Shenanigans Irish Pub! Our skilled chefs take pride in crafting a breakfast menu that pays homage to Ireland's culinary traditions, using fresh, locally-sourced ingredients to ensure each dish is bursting with flavour. Whether you're a local or a visitor, Shenanigans promises a breakfast experience that will leave you with a taste of Ireland in every bite.
---
Coffee and Craic: Unwind at Shenanigans with the Best Coffee
Indulge in the art of "craic" (Irish fun and conversation) while sipping on the best coffee at Shenanigans. Our handcrafted brew is the epitome of coffee perfection, delivering a harmonious balance of rich flavours that will warm your heart. Whether you're catching up with friends, enjoying a moment of solitude, or celebrating a special occasion, our coffee is the ideal companion for creating unforgettable moments at Shenanigans.
---
Join Us for Breakfast and Beyond: Shenanigans Irish Pub, Your Home of Hospitality
Shenanigans Irish Pub is not just a place to enjoy a sumptuous breakfast; it's a welcoming haven where you become a part of our extended family. From the moment you step inside, you'll be embraced by the warmth of Irish hospitality, surrounded by laughter, good company, and the aroma of delightful Irish dishes. Join us for breakfast and beyond, and let Shenanigans become your home away from home.
---
Shenanigans Irish Pub: Where Irish Hospitality Meets Culinary Delights
At Shenanigans Irish Pub, we invite you to embark on a culinary adventure that celebrates the rich traditions of Ireland. Our authentic Irish breakfast and carefully crafted coffee are just the beginning of the delightful experiences that await you. Come and immerse yourself in the warm ambiance, friendly conversations, and flavours that transport you to the Emerald Isle. Join us at Shenanigans, and let the charm of Ireland embrace you with every visit.
Sláinte!