The old road where Shenanigans stands today
1524
Shenanigans is situated on Tithebarn street, which is one of the original 'seven streets' of Liverpool. The street took its name from the Tithe Barn built by Lord Molyneux in 1524 to store the collected tithes (a tenth of farmer production) of Liverpool and Kirkdale . Prior to that it was named Moore Street, after the family of that name, but over time, because of the building itself Moore street fell out of usage.
Tithe Barn is gone and pubs have appeared
1820
By 1800 the whole of Britain was moving away from an agrarian society, and with the industrial revolution (that began to take effect from 1760) there was no longer a need for a building to collect the tithes. So by this time the Tithe Barn fell into disrepair as it was no longer used and alternatively converted into drinking establishments, shops and smith foundries. By 1820 most of the old Tithe Barn had gone and the street was widened as Liverpool's population began to grow and the street became busier.
Around the time that the Tithe Barn was disappearing, pubs, spirit or beer vaults as they were also called, became a common sight; appearing every 100 metres (or 20 rods as was known back then).
The first drinking establishment came into existence
1841
In 1842, for example, there were 18 licensed premises on Tithebarn Street alone! Most were un-named due to the huge quanity that there were. This time is probably when the first drinking establishment came into existence, where Shenanigans stands today. But it is virtually impossible to know for sure the exact date of its founding as during the early 1800's house numbers along Tithebarn seem to have changed constantly.
The first date we have found of a pub on Shenanigans site is 1841, as this is the first year of official licensing records. The licensee was a Hugh Skellern and the pub had no official name. The earliest name we found being 'The Revolving Lamp' in 1894, when William Tyson was the landlord.
Street map dated 1860. Shenanigans can be seen on the corner of Smithfield Street named 'Spirit Vaults'.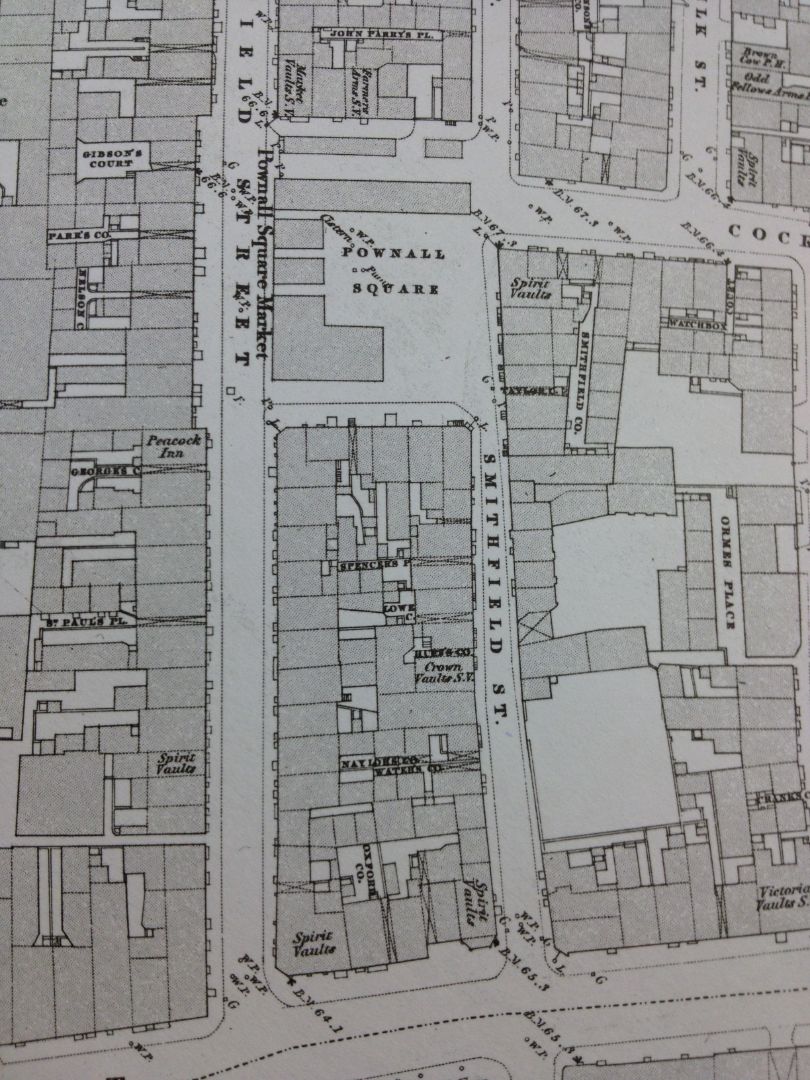 Walker's Pub
1894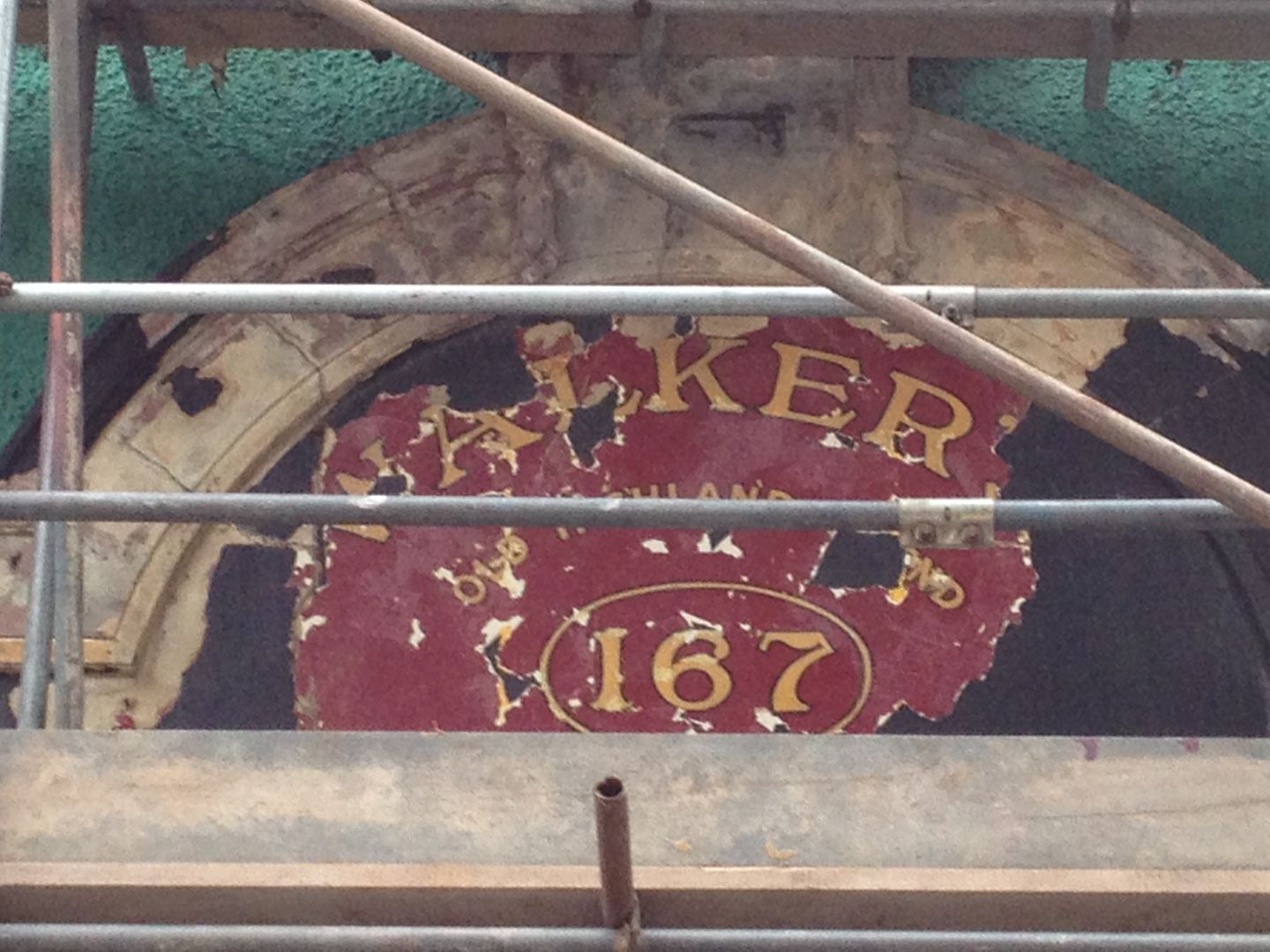 In 1894 the pub was bought by Peter Walker and Son from a Mr Peter William Haigh over Boundary Lane. It was the first of eleven Walker's pub on Tithebarn street.
A little time before the Walker's take over we had John Brierley Swarbrick as the licensee in 1893 with a few short term licensees in between before Marcella Hunter, publican from 1898 - 1918.
Walkers sign was discovered after renovations on Shenanigans during the summer of 2013.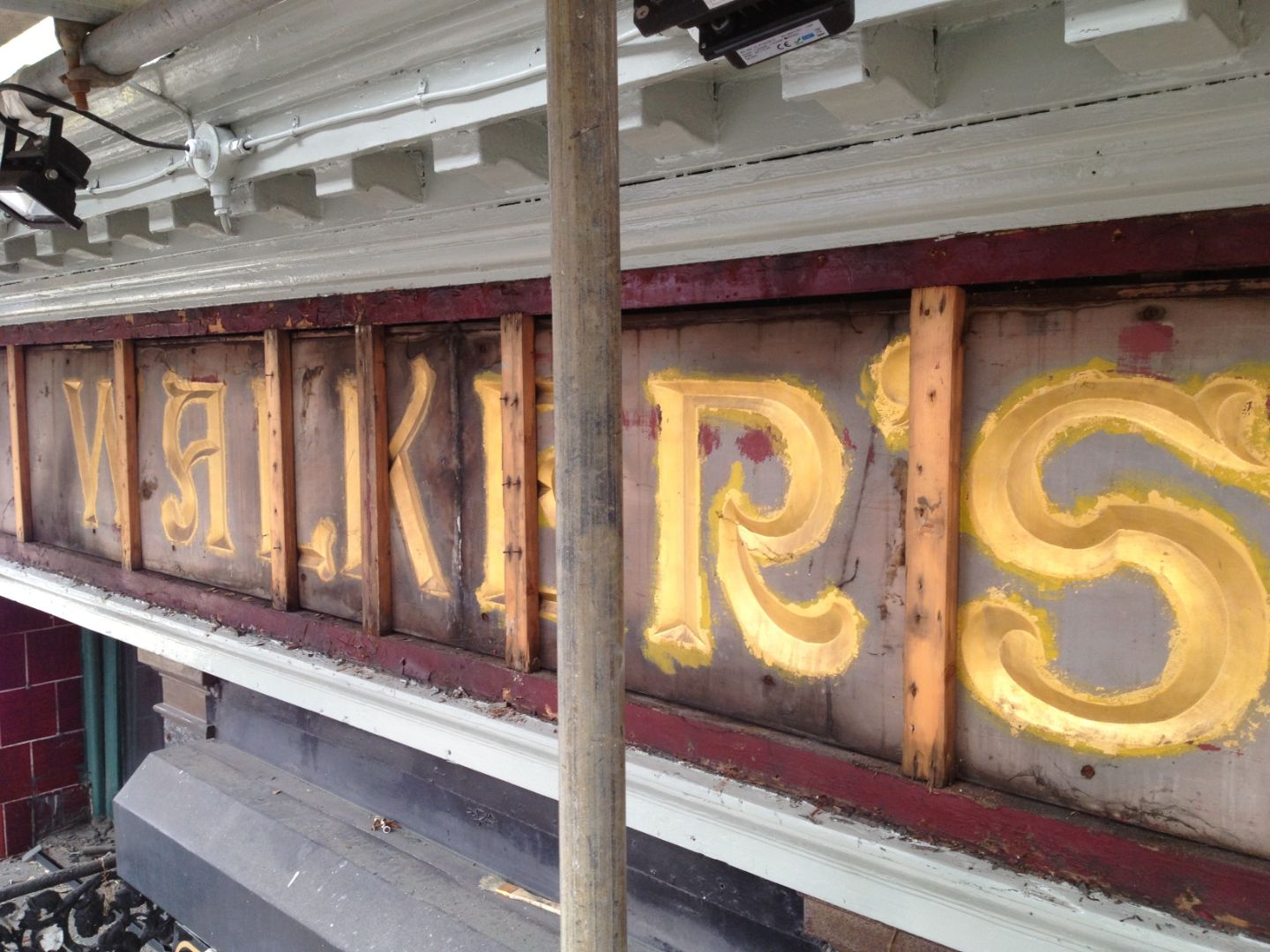 Shenanigans Founded
1997
After the Second World War there was a lot of damage to the area, followed by rebuilding. Which helps explain how Shenanigans looks today. A solitary building standing proud, with a slight lean!
In 1997 it became Shenanigans, the start of a new chapter! Since her inception it has had some interesting moments. There have been beach parties, (the pub was filled with sand) Student Olympics, fireworks, full moon parties, bush tucker trials, and with hundreds of customers and staff passing through over the years.
Left photograph of the Rising Sun 1979. Right photograph of Shenanigans 1997.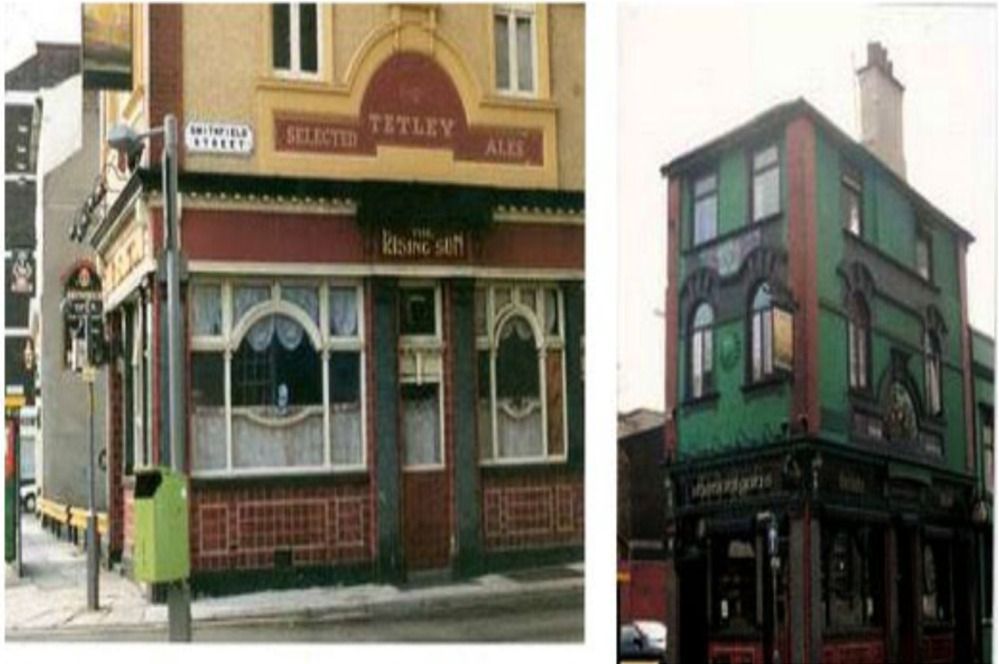 Shenanigans Now
2020
Shenanigans is placed in the heart of Liverpool's city centre business district. She is just 5 minutes walk from Mathew Street, home of the world famous Beatles. And next to the cities original and extremely popular Super Lamb Banana statue.